How do I plan on losing weight?
First, I hate thinking of it as a diet and I don't like calling it a diet. I will probably rant about this in one of my posts but the word "DIET" just sounds so unpleasant and un-motivating. For me, I plan to lose weight and keep it off with a complete lifestyle change.
Ultimately I will make better food choices and eat less of things that contribute to weight gain. I will also try to increase my activity as much as possible. In the beginning I have devised a program using some of the tools you can find here at "Weight Loss Weapons". I'm going to try and lose as much weight as I can in my 20 week program.
The 20 Week Program Explained
What Will I eat?
My diet will pretty much consist of whatever I want but I have a daily calorie intake allowance. You can follow some of my food choices in What I Eat. Since I use MYFitnessPal to track all of my calories I will eat whatever I want that fits into my calorie budget. I will try to restrict myself from eating anything very high in calories. It might happen but I'm going to do my best to stay within the range. In the beginning my max calories should be around 1,650 per day.
Will I exercise?
My plan in the beginning is to get at least 3 hours of cardio in a week. This means I will run as far as I can in about an hour on the treadmill but I should come in just under 4 miles. My main goal is to use my Fit Bit to track burning an extra 2,000+/- calories a week. So ideally Id like to average 300 extra calories out a day. I estimate that just being alive and my sedentary lifestyle burns m about 2,800 Calories a day.
2,800 cals Living + 300 cals Exercise = 3100 daily calorie loss
Subtracting the 1,650 intake per day = a deficit of 1,450 Calories.
If every pound is equal to about 3,500 calories I should lose at a rate of 2.9lbs a week.
One of my tools I started out with is Microsoft Excel. I'm a spreadsheet freak and I will make spreadsheets out of anything. To get myself motivated I created a spreadsheet to project my weight loss over 20 weeks using the figures above.
(Click the picture to make it bigger)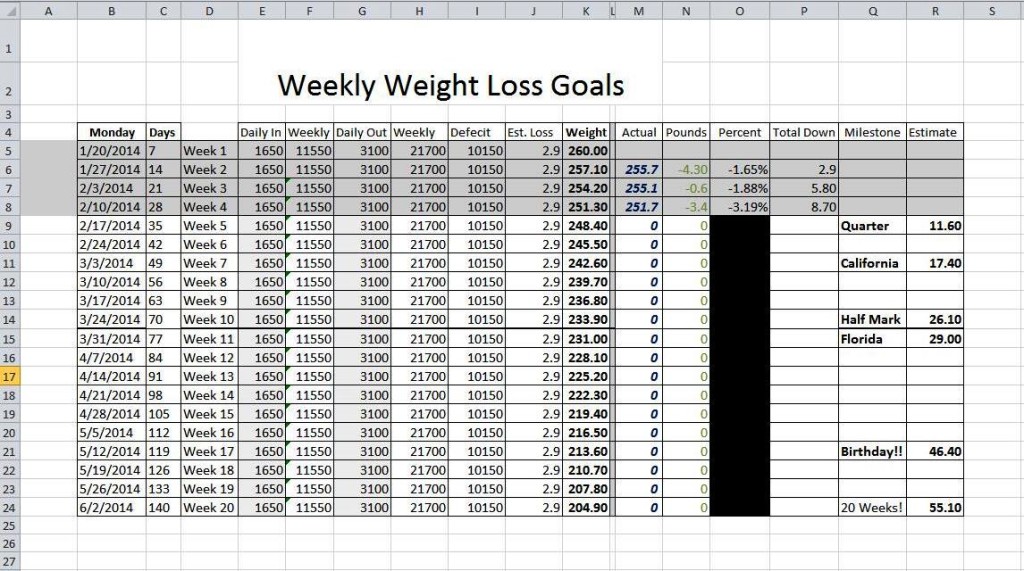 This spreadsheet was a great way to get me motivated and see how my plan will work if I stick to it. Being that I started this website a little late you will see my actual weights already filled in. Surprisingly my numbers have been pretty much on track. I can even play around with the spreadsheet to see what would happen if I decrease/increase my calorie intake or if I decide to exercise more.
I have improved the spreadsheet a bit and included it as a download so you can make your own 20 week plan based own your on figures. You can get it HERE.
I'm still not sure if I plan on doing cardio the full 20 weeks or if I'll at some point add some weights in the mix. I never wanted to be skinny so my goal would be at some point to start adding on some muscle.
What if I Fail?
Its so hard to stick to something like this because eventually you go back to your old ways. For me this is a lifestyle change so I'm fully expecting to have those weeks that I just cant meet those goals. If you look at the spreadsheet you'll notice that I have a milestone column. Here are a few points that I know I will be eating what I shouldn't and not exercising. For example; In the end of February I'm visiting my brother in California for a few days and in the end of May going on a Babymoon to Disney with Amy. On these vacations I don't want to be restricted from eating out and just enjoying myself. By no means am I planning on a pigging out fest!
Basically, if I eat a bunch of junk I just pick back up again in my normal routine (by normal I mean new lifestyle). It might set back my end goal and make it take longer to lose weight but it wont kill me like being fat will.
Well…. that's what I have in store for the next 20 weeks so lets see how I do.