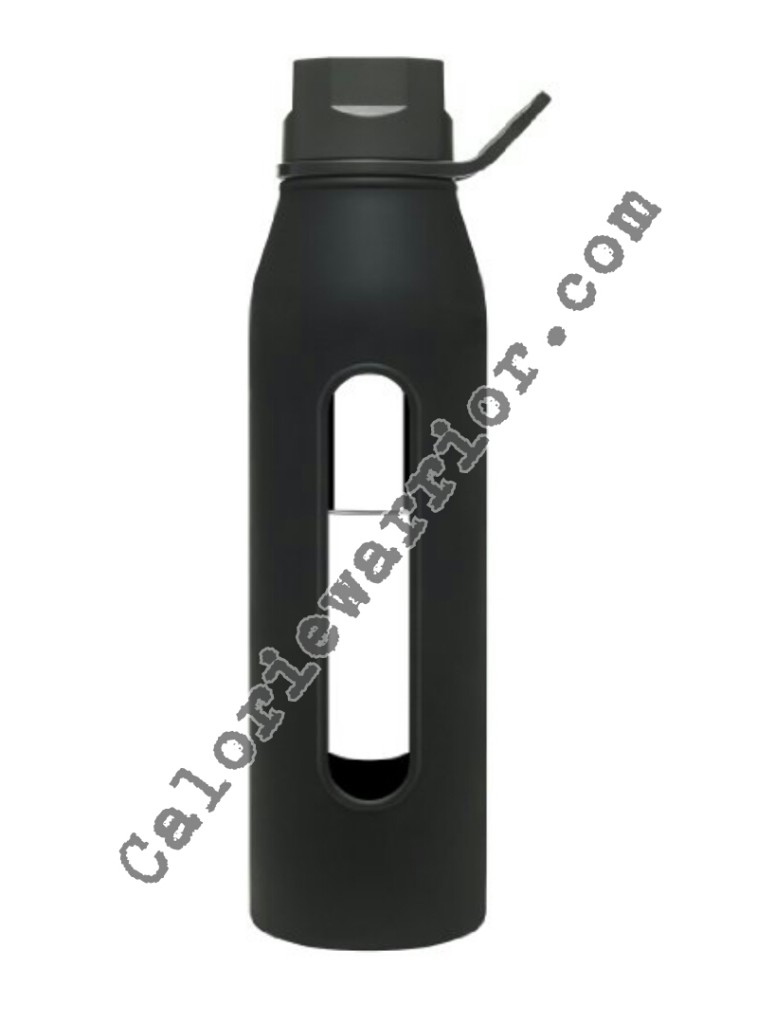 The Takeya Water Bottle was introduced to me by my cousin who is a full time personal trainer. I'm a dieter that tries to drink as much water as possible and I was getting tired of filling up water bottles, having empty bottles pile up and not to mention the cost of cases of water. I was looking for a simple solution to having a water bottle by my side at all times that was to important to leave behind. I knew I could get a water filter set up if I could just find the perfect bottle to fill. I read tons of Amazon Reviews and bought the most popular competitors bottle but was seriously unhappy. I've now owned my 22 ounce Takeya Bottle for almost 3 months and very satisfied.
What's up with the Takeya Water Bottle?
The 22 ounce Takeya Water Bottle is different from most water bottles because it's made of glass. The glass is encased with a rubber sleeve that protects it from breaking even if you drop it on solid concrete (I've done this). For a glass water bottle it's pretty rugged and can hold up to some pretty tough daily use. The bottle features a screw on cap with a big mouth opening for gulping your drink. At the top of the bottle is a plastic handle that's held in place by a ring of glass above it. The handle makes the bottle easy to carry or clip onto a belt or bag.
Pros:
BPA free
Water tastes better in glass
Cool and modern looking
Fits into most cup holders
Dishwasher safe
Large drinking spout for big thirsty gulps
Spout large enough to drop in ice cubes
Easy to open twist off cap
Strong seal that never leaks
Comes in a variety of colors
Bottle never sweats with cold water
Competitively priced
Cons:
Hard to clean
Sleeve may be damaged on the bottom shelf of the dishwasher
Hard to fit on the top row of most dishwashers
Handle is somewhat odd shaped and takes time to get used to
Sometimes bottle is too tall for tight spots
Weighing the Pros & Cons of the Takeya Water Bottle
As a reusable water bottle this one is very durable and will surely last you a long time. The bottle is stylish and comes in different colors so you won't attract any strange attention because its anything but weird looking.
The bottle is dishwasher safe but from my experience you shouldn't put it near the bottom of the dishwasher close to the heating element or it will melt. I can lower my top shelf of the dishwasher to get it to fit. The only problem washing it this way is that the bottle will taste like "dishwasher" for a while. The best way to clean this is probably to get a bottle brush to scrub the inside by hand.
The bottle has a large spout that is great to take big drinks from and makes it easy to drop in some ice cubes or fruit, but if you're trying to take a swig while you're walking on the treadmill you'll probably dump some out on yourself.
The 22 Ounce bottle I have is on the big side, specifically tall. You might have trouble fitting it in some car cup holders that have overhanging dashboards. It may also be to heavy to comfortably bring on a run.
Conclusion
Overall my Takeya Water Bottle serves its purpose. The 22 Ounce bottle is large enough to last me on car rides and I can easily refill it whenever its empty. Even if its annoying to clean I think it's worth it. I've saved tons of money because I almost never have to buy bottle water anymore. Bringing my bottle with me has become second nature and I grab it just as if I would my wallet or car keys. I haven't forgotten it anywhere or misplaced it yet!
I just picked up a second Takeya Water Bottle in pink for my wife and she's excited to start using it!
Where to buy your own Takeya Water Bottle?
If you have a nearby Costco I noticed they started selling two packs in random colors combinations.
You can have your Takeya Water Bottle quickly shipped to you directly from Amazon. If you have a chance, see what the other reviewers on Amazon have to say.