Tuna & Guacamole on Wasabi Crackers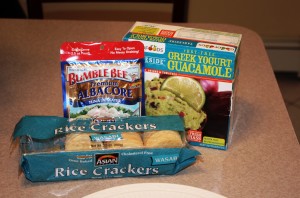 Very quick and tasty low-cal lunch or snack.
Ingredients
2.5 Ounce Package of Solid White Tuna in Water
7 Wasabi Rice Crackers
1 Greek Yogurt Guacamole
Instructions
Put 7 rice crackers on a plate
Put an equal amount of Guac on each cracker
Open and drain your Tuna pouch
Top each cracker equally with Tuna
Notes
This is a great meal or snack if your in a hurry and its actually satisfying. The wasabi crackers give it a little bite. You can substitute my Greek Yogurt Guacamole for any other, just account for the calories. It goes great with a spoonful of cottage cheese.