Easy Chicken Hot Dogs on Whole Wheat
Nutrition Information
Serving size:

1

Calories:

350
Prep time:
Cook time:
Total time: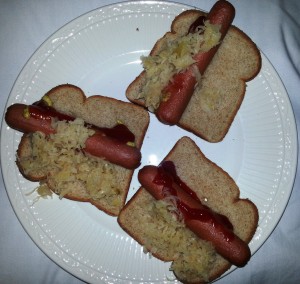 This is basically three chicken hot dogs on low calorie whole wheat bread.
Ingredients
Chicken Hot Dogs
Low Calorie Whole Wheat (45 cal per slice)
Ketchup
Mustard
Kraut
Instructions
Boil the hot dogs for about 5 minutes or until heated through
Put desired amount of bread slices on a plate
Drain water from hot dogs and put them back on the stove to dry off water
Add your dogs to the bread
Top with your favorite toppings
Notes
Make sure to adjust your calories based on your toppings. You can ad things like cheese, onions, relish or I've even used left over turkey chili.