Last night was valentine's day and as you can see from my previous post I got a little carried away with food. I promised I'd try to make up for it on the treadmill.
I figured it would be helpful to include some screen shots showing my treadmill times before and after. These are only for this year and over the last four weeks. I jogged a bit back 6 months ago that probably helped improve these times today from when I was a complete couch potato.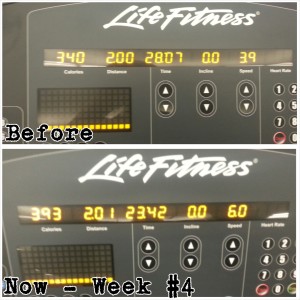 I personally track all of my progress on the treadmill by snapping pictures. My first goal on the treadmill is to do 2 miles as fast as I can. I'd like to get the 2 miles down without stopping to walk but I haven't been able to do it yet. I would have done a little better today but my shoelace came untied and I had to slow down to tie it.
I cut almost 5 minutes off my time and burned more calories because I was able to jog at a faster pace. I pretty much do a warm up at 3.7 for 30 seconds and then increase it to around 5.3 for as long as I can hold it. Id really like to be able to job straight through in under 20 minutes.
I usually do about 45 minutes and a 5 – 10 minute cool down when I go to the gym. I try to get in at least 3 miles which used to seem impossible. I snapped another photo of my 3 mile time today and included and older one. I'm not sure when I took this one because I wasn't even able to make it to 3 miles in the beginning.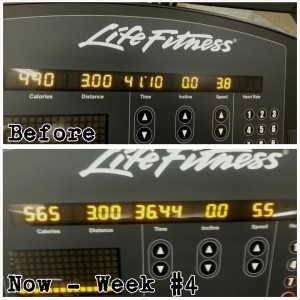 Here you can see that I cut down about 5 minutes off the 3 mile total. I also burned more calories in a shorter amount of time which is nice. I probably could of done a bit better today but the food from Valentines day was sitting in my stomach like a brick.
I'm trying to get my 3 mile time under 30 minutes. This would be a huge achievement for me! I also think to myself how great it would be to turn all this running into doing some 5K's in the spring.Before I even consider something like that I'd have to be able to jog at least the 3 miles non-stop. I think this will be a great way to mix exercise with something I can do socially. I have a few friends that run these and I think it would be fun for Amy to come out and cheer me on.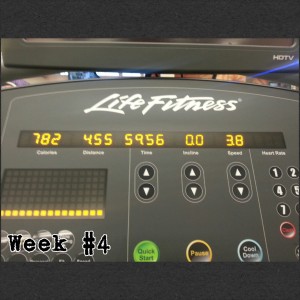 I did a full 60 minutes today because I had the time and my poor eating the night before gave me some motivation. I'm not going to lie, it was pretty brutal and I slowed down a lot after I hit my 3 mile marker. This is my third day on the treadmill to close out the week and my average calories burned every day should fall right at the 3100 daily I described in My Diet Plan.
Just over 4.5 miles and just under 800 calories. Not to bad!
Now I just need willpower so I don't go home and eat Amy's mini cupcakes!