Last night I was reminded how I'm an addict and I haven't overcome my desire for food. Even though I've been doing so great I actually embarrassed myself. The hardest part about me eating better isn't changing what I eat but, limiting the amount I eat, especially when it comes to take-out.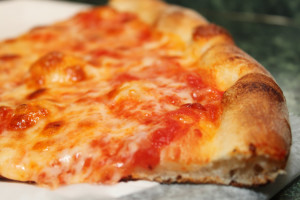 This Friday night we went over our friends house for dinner and ordered in some pizzas. They had some chips out and my friend offered me some beer. I thought to myself, "I got this". I ate pretty good all day so some pizza and beer wouldn't hurt. I sat down with my bud light and started munching on a few chips. I kept noticing that I was the only one eating the chips and my hand wouldn't stop reaching into the bowl. Finished beer #1 and started working on another. Luckily it was time to leave and pick up the pizza.
There were four of us and we got two pies and probably two dozen wings. My friends really don't eat to much. I started with two meatball slices, four wings and I could have been content. I knew the pizza was going in the garbage and a little voice kept saying have another slice. So, I grabbed slice #3 and dropped in like 3 more wings. Another beer….. and now I realized control was gone. Everyone was done eating and there was so much left. Figured I would clean off the table and when I went in the kitchen I saw the boxes of pizza sitting on the counter. This is where it was kind embarrassing because I grabbed a paper towel and walked out of the kitchen with slice # 4. WTF was I doing? I also knew that we had brought little ice cream cups over for dessert and I polished off one of those too.
I was pretty disappointed in myself and don't know why I feel the need to finish EVERYTHING. Even when I'm at someone else's house. In our house the temptation isn't there because I restrict everything that comes in and the amount that's cooked. I know I've been doing good and limiting my calories all week but a slip up like this really isn't acceptable.
I felt really bad when I forced myself to log everything into MFP when I got home. I totally killed all the exercise I did that morning just to big out on some beer and take-out. My biggest hurdle will be learning how to stop overeating.