Pesto Salmon & Asparagus Foil Pack
Prep time:
Cook time:
Total time: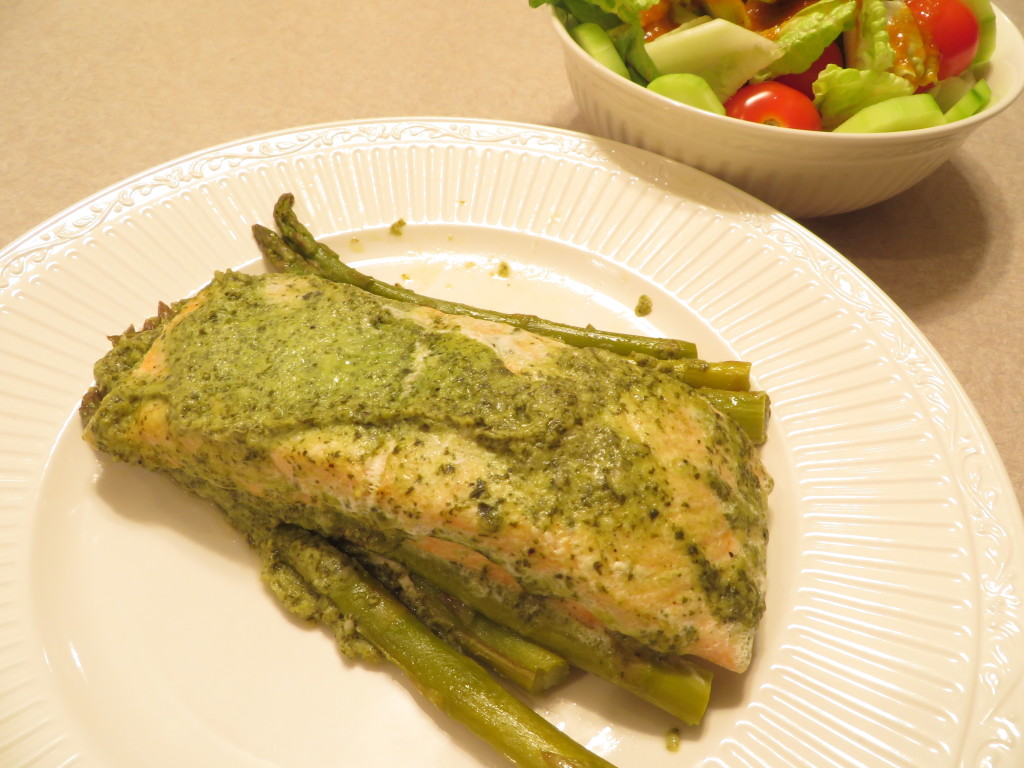 This is an alternative to my Garlic Parmesan Salmon & Asparagus Foil Pack that became so popular.
Ingredients
6 oz Salmon
Asparagus Spears
2 Cup Fresh Basil
1 Container of Greek Yogurt
¼ Cup Parmesan Cheese
3 Cloves Garlic
2 Tbsp Olive Oil
Salt & Pepper
Instructions
Preheat the oven to 375F
Add the yogurt, parmesan, oil, salt, pepper and garlic to a food processor
Process until you cant see the garlic cloves
Add the basil until its chopped well and mixed in
Rinse your Asparagus and cut ends off
Cut a sheet of aluminum foil large enough for the the asparagus and salmon
Arrange asparagus spears on foil and top with the salmon
Generously pour your pesto mixture over the salmon (about half mixture)
Cut another piece of foil large enough to cover everything and fold up the sides
Place on a cookie sheet and bake for 30 minutes
This recipe was a change up for me because I happened to have the ingredients around and really wanted to try making a Greek yogurt pesto sauce. It definitely didn't hit my taste buds like the Garlic Parmesan Salmon Foil Pack but it wasn't bad.
Regular pesto sauce is made mainly with basil and olive oil making it SUPER high calorie. Substituting the Greek yogurt is a healthy and low calorie alternative. Your probably thinking, YUCK!! Yogurt, salmon, garlic, etc…… It really wasn't bad and most of the yogurt cooked out leaving a chunky mixture. I tasted the mixture before it was cooked and it was actually pretty tasty and would make a great dip, just a bit on the garlicky side.
To answer some questions:
I used a frozen Salmon piece that was thawed. You can see how I do this on my Food Storage and Prepping page.
I use all fresh ingredients when I can including the asparagus and definitely the Basil for this.
You can easily throw this on the BBQ but make sure the covers closed so you don't put on to much direct heat.
I probably wouldn't make this again because the flavor was pretty light. I only used about 1/4 of the mixture and changed the recipe to include half. Make sure to scrape off whatever mixture is left in your foil pack and top it on your fish. This also could of been because the fresh basil I had already passed its time and might not of been so flavorful.
Here are some more photos from this recipe
The finished meal!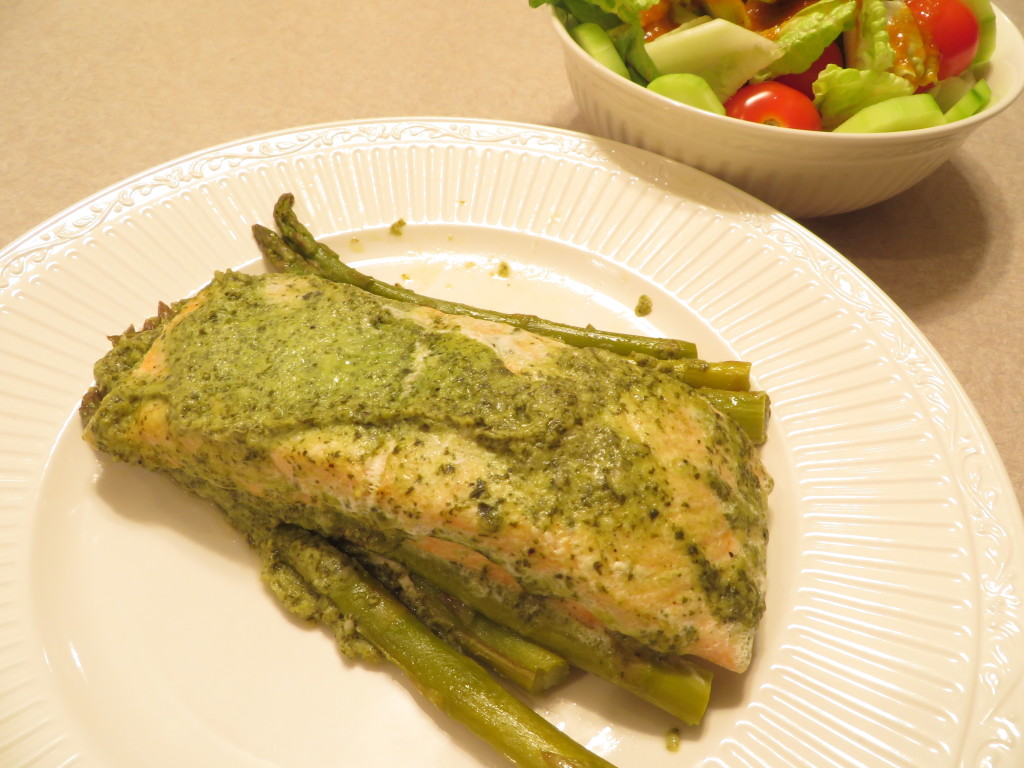 I ate this with a side of fresh romaine salad topped with Japanese Ginger Dressing. It was a very light meal but extremely filling!