I wanted to share with you guys how we do some of the food planning and storage in our house. Monday – Wednesday are the easiest diet days because I know I'll be cooking dinner at home.
Amy and I are kind of thrifty when it comes to grocery shopping and we buy all of our meats in bulk. I even buy the chicken breasts that need to be cleaned up of fat and what not and do all the work myself. When everything is ready to be put away I use my Foodsaver Vacuum Sealer and pack everything up in portions. This makes it really easy to grab stuff from the freezer. I taught myself to not over pack the bags and it help me cut down my portions and add more vegetables to the meals.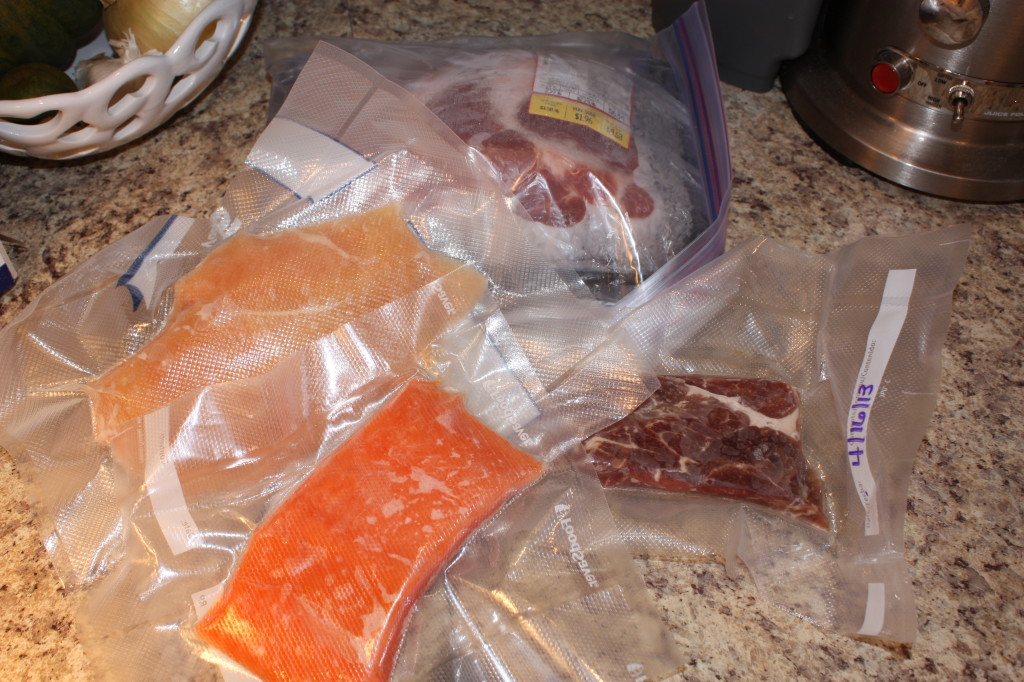 This is what our counter looks like on a Monday afternoon. We talk about what we want to eat for the week and take the portions out of the freezer.
Most of the time its a chicken breast, boneless pork chops and something else random. Amy wont eat seafood so I don't usually have any because then I'm cooking two separate dinners.
This weeks dinner plan is;
Monday – Salmon for me and Steak for Amy
Tuesday – Something with a chicken Breast
Wednesday – Pork Burrito Bowls like Chipotle.
Everything we aren't using that night gets put into the fridge so it can defrost. Usually the day of the meal we will talk about what sides we are having or just decide when we start cooking. Most of our dinners consist of a meat and two vegetables or some brown rice.
I'm very comfortable in the kitchen and I have no problem creating meals with the stuff we have on hand. We usually eat the same things and if we want something different we pick it up from the grocery store on Sunday and work it into our week.