My comprehensive review of the FitBit Aria Wi-Fi Smart scale and why you NEED to own it.
Its about time I review this scale, especially because I've owned it for over a year now. When I bought the scale I was seriously into dieting & exercise and weight loss. I was trying to find the best and easiest solution for tracking my weight loss and gain over the weeks, months and even years. After doing some research I cam across the Aria Digital Scale. At first I was taken back at the price because most scales are under $20 bucks. However, this is a SMART scale! I ordered the scale on Amazon and never looked back.
Aria Scale Features
Simple Setup & Configuration
Automatic Wireless Uploads to FitBit.com and Mobile Devices
Multiple Users (up to 8) and Guest Recognition
High Maximum weight capacity of 350 pounds
Integrates With Popular Weight Loss & Exercise Apps
Estimates Body Fat Percentage
Comes in White or Black to match your Bathroom
Emails you when the Batteries are Low
Some added Motivational Bonuses!
Simple Aria Scale Set Up
The scale is pretty easy to set up even though it requires a little more than just popping in batteries. You can find simple instructions from FitBit here or by reading the info that comes with the scale. Basically you'll need to install some software on your computer and set up an account with Fitbit. So…. if you don't have a computer this probably isn't the scale for you. Also if your worried about getting annoying emails and marketing from Fitbit.com or anywhere else I can tell you I haven't gotten any of these in the entire year I've had mine. Once the software is installed you will have to name your scale, put in some info about yourself and connect it to the network all from your computer.
Adding Other Users to the Aria Scale
You might plan on sharing your scale and want to add other users. The Aria Scale can track up to 8 separate users that it will recognize as soon as they step on the scale. The scale will work fine if the user doesn't want to open a Fitbit account and use the scale to track their own results. To add another user you will have to go into your Fitbit dashboard and send an email invitation to the other user giving them instructions on how to set themselves up.
FitBit Website Dashboard
Here is a screen shot of what my Fitbit Dashboard looks like. Keep in mind that I also own the Fitbit Flex Wristband and Sync with MyFitnessPal.com so I have so additional logging options like calories, steps and sleep. This is just a general overview of the dashboard.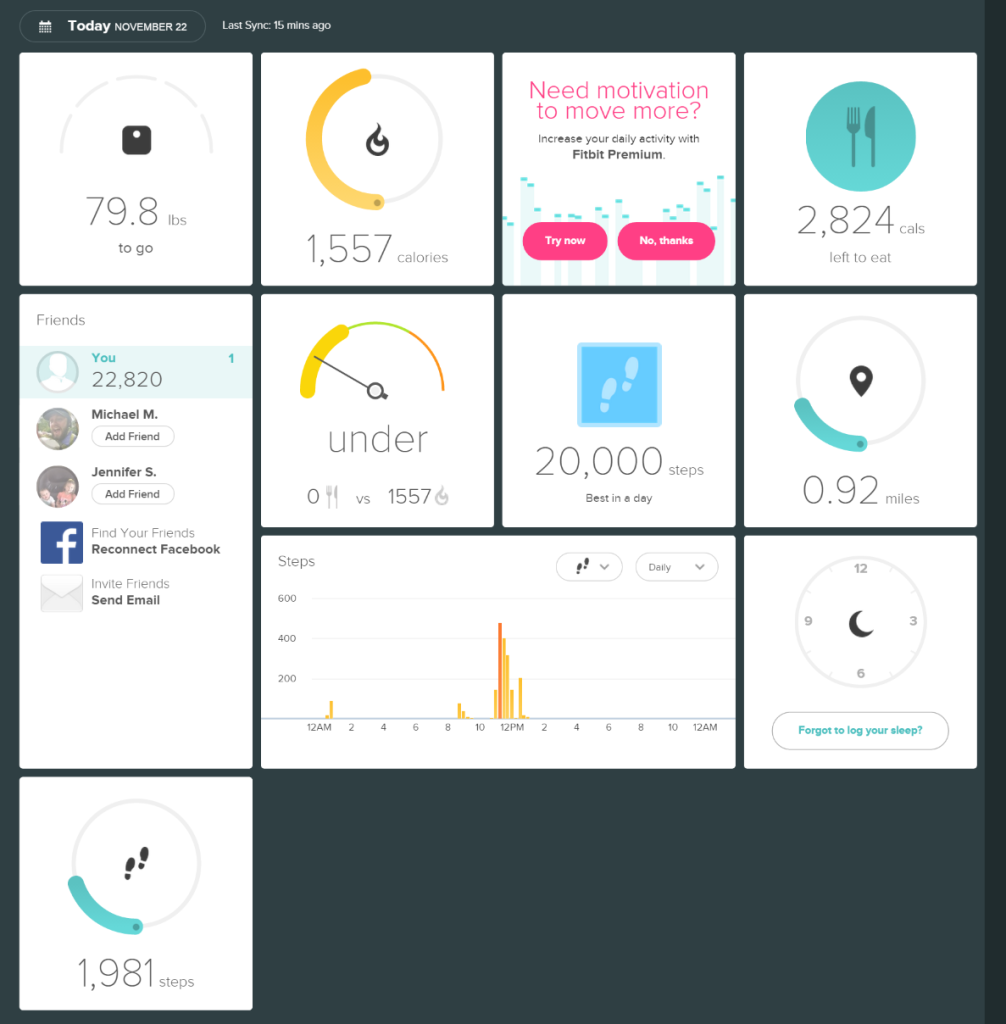 Lets take a look at the weight tracking which is what the Aria Scale is really for! What makes my review better than others is the fact that my weight fluctuates so much, or maybe I should say I diet hard and eat like shit. You'll notice my achievement of gaining 25lbs since I got the scale.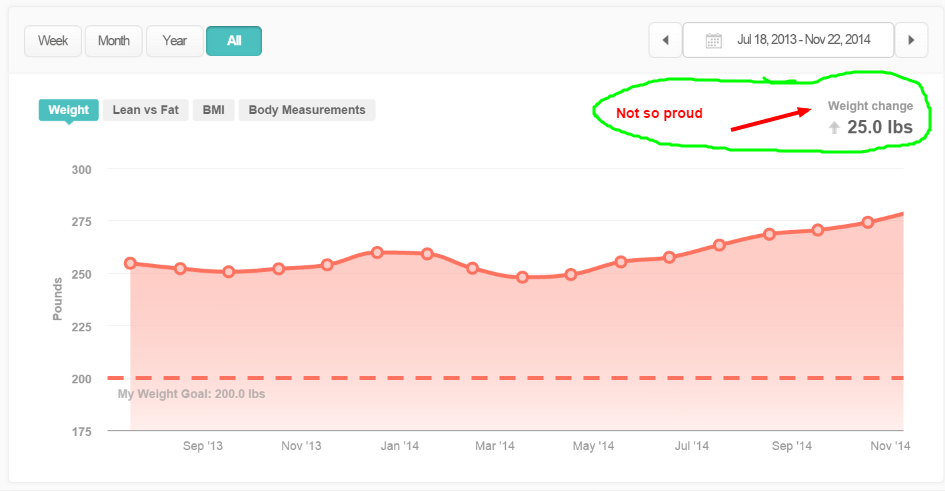 I set this to show everything since I've owned the scale. You'll notice my ups and downs and how far I am (and have gotten) from my goals. I also pointed out the weight summary at the top right.
Using The Aria Scale App for Android
I showed you how the Aria Scale looks on the internet but that's not how I personally use it. I prefer to use the FitBit App on my phone. The only disadvantage to the mobile app is that you cant track as far back as on the computer. All of the Fitbit logs are more detailed on the computer. Here is how the mobile app looks;
Aria Scale Tracking Over 1 Year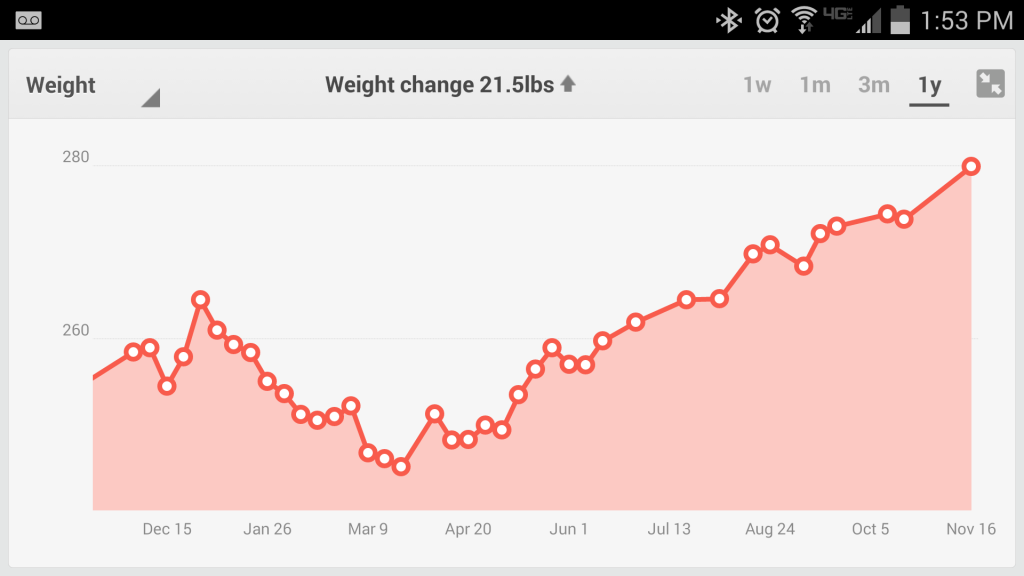 1 Years of Body Fat Tracking
1 Year of BMI Tracking
I love how it reminds me I'm obese! You'll notice all the little bubbles. Those are all the times I stepped on the scale and it logged my weight. For me I check my weight much more frequently when I'm trying to lose it. Once I start gaining I don't want to know what the scale says and I'm scared to even go near it. Below you'll see a more condensed view of 3 months time.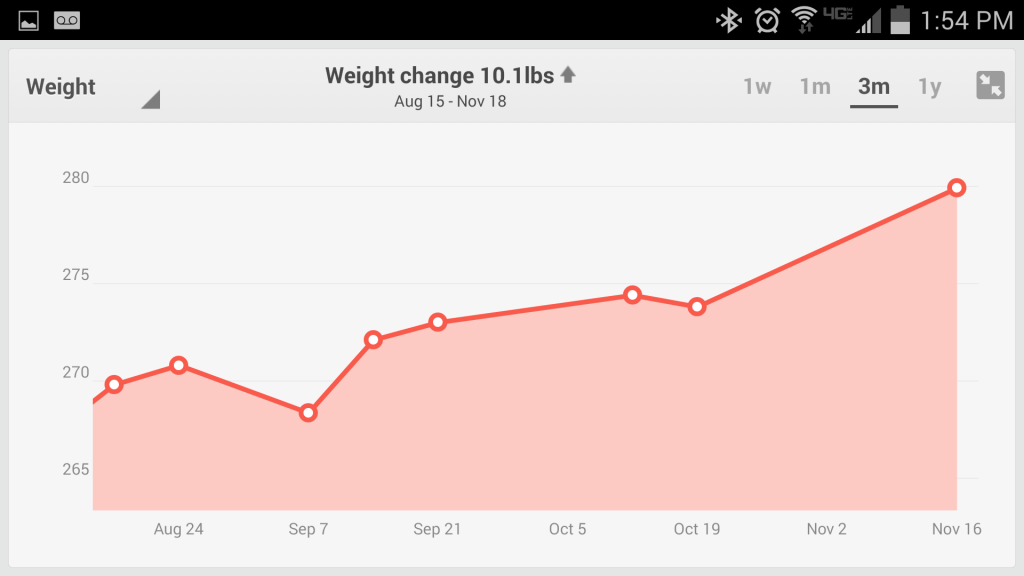 The shot below gives you and idea of what it looks like if you touch one of the bubbles. I couldn't help but touch my lowest one to show off how much I lost when I had control. Sunday, March 23rd 2014, Oh, How I miss that day!!!!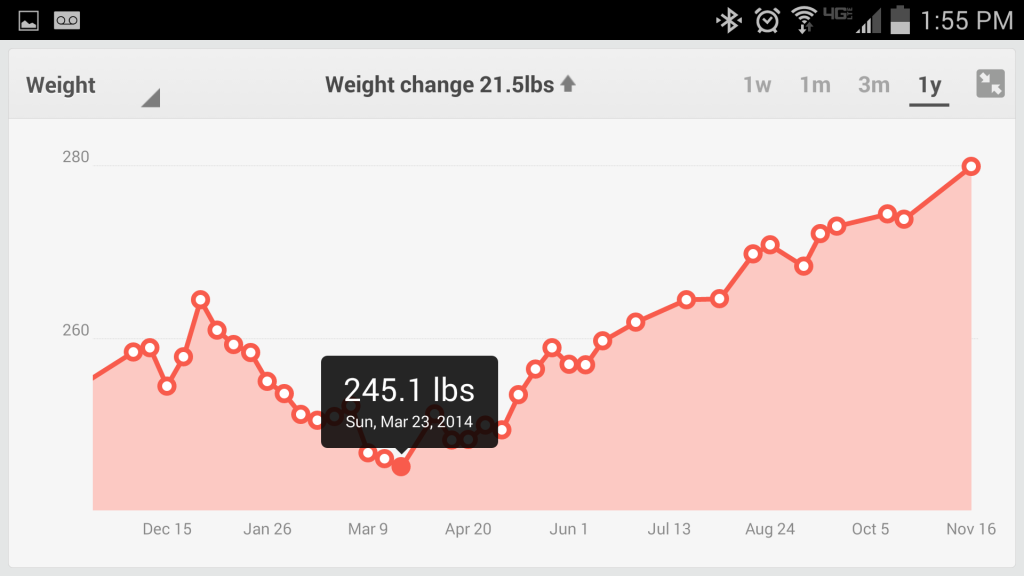 Aria SMART Scale Bonuses!
I'm not sure if I should share this because I was pretty surprised when it happened. When I was busting my ass trying to lose weight the scale knew it! Whats this mean? This scale is so smart that it would shoot me out an email congratulating me on my weight loss! The first one of these you get gives you an amazing feeling of accomplishment. The ore you lose the more the scale lets you know how proud it is. Even my wife was blown away when she saw in her email one day that Aria Smart Scale noticed she lost some weight and wanted to congratulate her. This is an awesome feature and great surprise, sorry if I ruined it for you.
Why I Love This Scale & How I use it
I haven't put the scale to good use lately but it still reminds me of the good ole days when I weighed in at 245 lbs. Its not just so I can see the weight but its a nerdy tracking tool. I don't just use the scale by itself. You may have noticed in my dashboard picture that I have the scale synced to my Fitbit Flex and also myfitnesspal. This means I can go back last year and review all the things I ate and how much exercise I did. When your working hard at dieting these tools all fit together really well. You can see some of the other things I use in my Weight Loss Weapons post.
Do I think the scale is accurate?
As far as weight I think the scale works great. I've used the scale before going to the doctor and the weight compared to there scales has always been just about the same.
For fat and BMI tracking I'm not so sure. From everything I read, getting an accurate BMI reading is extremely difficult without having it done by a professional. When I was working out and running like crazy I wanted to believe my BMI was way lower then the scale was telling me. No matter how much weight I lost my BMI didn't change. The technique this scale uses to measure BMI is the same as one of those hand held BMI testers and they don't work perfectly. I didn't buy the Aria scale for this purpose and I never looked to deep into the BMI calculations.
I've had the scale for over a year and it still looks just like it did when I took it out of the box.  You can see it in the picture below. Its in perfect shape and and any marks you can see on it are just a reflection of things in my bathroom.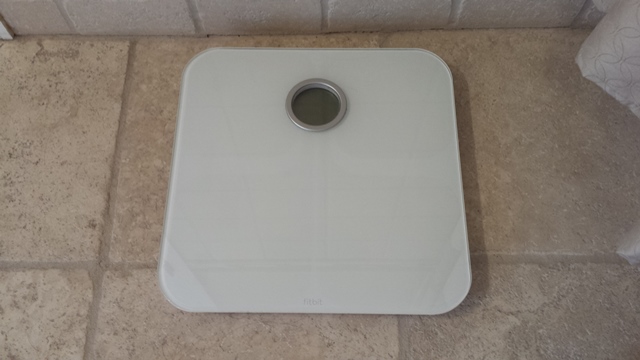 Who Should Buy This Scale?
I highly recommend this scale to anyone serious about weight loss, dieting, exercise or looking to monitor their weight over time. Its not hard to use at all and easy to set up. If you already use a FitBit pedometer or MyFitnessPal this a must have! This might cost a little more but its an all around great scale. If you don't want to use the computer or phone app then its probably way more than you need and you might want to settle on a basic scale. For everyone else this is a major improvement for advanced weight tracking!
Best Place To Buy The Aria Scale
I'm a big fan of online shopping and got mine from Amazon.com but you could probably find it at one of your local department stores like Best buy or someplace like that.